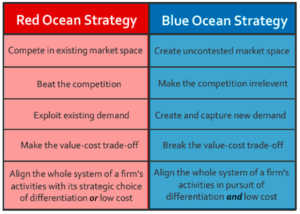 Blue Ocean Strategy Canvas – The Blue Ocean Strategy canvas was popularized by W. Chan Kim and Renee' Mauborgne in "Blue Ocean Strategy:  How to Create Uncontested Market Space and Make the Competition Irrelevant".  This strategy creation methodology compares traditional competitive markets where value /cost trade- offs and competition dominates – here dubbed as red ocean strategies – with Blue Ocean Strategies where through the creation of a unique differentiated and unique value proposition competitive forces are minimized or even eliminated.  While the notion that it is possible to create a value proposition that makes competition completely irrelevant is arguable, there are clear examples of "Blue Ocean" products and companies that completely legitimize the concept.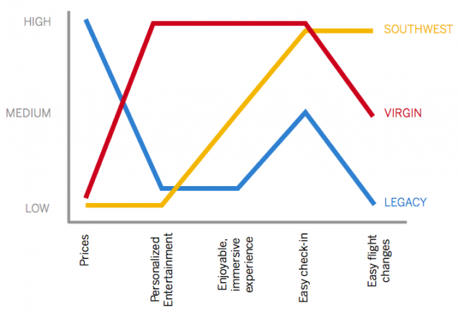 In the book, Kim and Mauborgne highlights the significant differentiation of Southwest Airlines, Cirque de Soleil, Yellowtail wine and many others.  And, while your business strategy may cause you (condemn you?) to the world of competitive forces (5 Forces), using the "Blue Ocean Canvas" to evaluate alternatives in building a more differentiated business plan is a very valuable exercise.  Where it is possible to create a truly differentiated offering that customers truly love – and at the same time dramatically reducing competition and still meet your business objectives – you should surely take advantage of it!  In the illustration of a Blue Ocean Value Curve Canvas here, Southwest and Virgin Airlines, two companies that both arguably have Blue Ocean Strategies are compared with legacy airlines.  This is a relatively simple canvas to make the point, and the canvas can be considerably more complex as you create the optimal blend of market attributes to create a new, differentiated and highly desirable market value curve.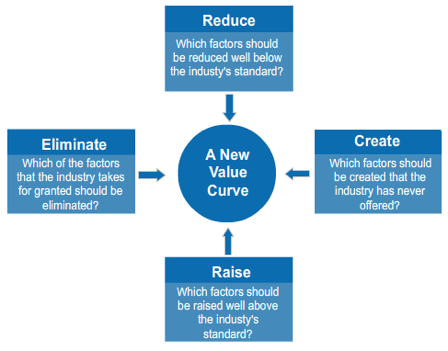 To implement the process, you create a chart – the canvas (above) – that lists the various attributes that your market currently uses to attract customers, such as price, convenience, location, services, variety, sizes, speed, or whatever, and plot the relative value that the current market places on these attributes to produce the traditional value curve of your market.  This is your markets nominal value curve.  Then on this "canvas" you can "re-tune" this mix to emphasize, minimize or eliminate elements of the attribute mix that can differentiate your offering and provide you with competitive advantages.   You can also extend this nominal list of market attributes to include new attributes that your business model would add to the mix making you unique.  To develop your unique product mix – that makes the competition – at best – irrelevant or – at least – less relevant – you reduce, eliminate, raise, or create market value attributes to create a compelling value curve that is outstanding and dramatically differentiated.
Personally I do not view the use of this strategy creation model as an either / or decision versus using the models.  Using this model may allow you to discover a Blue Ocean, but it also may not, but it is a straightforward way to think about the baseline value curve in your market, at what customers really value, what it costs you to deliver on each promise on the curve, and what you might do to improve your competitive advantage.  Going through this exercise you can challenge traditionally held views of your markets, test for underappreciated or outdated attributes (unnecessary costs) that you can minimize or eliminate, find areas of your market that your customers want but your nominal markets value curve under emphasizes, or discover values that are altogether missing from the existing value curve that you believe your customers will truly value and embrace.   This model is somewhat unique in the level of creative thinking involves, and that is very valuable.
Frankly, I believe that the process of creating your market's value curve is useful in itself to align your thinking in the strategy process.  The added opportunity to make the value curve for your product unique, differentiated and better is icing on the cake.